JRC Receives Samsung-Q Mark Gold Award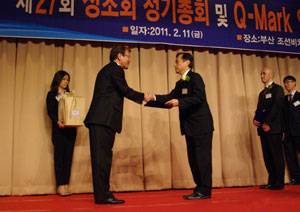 Samsung Heavy Industries (SHI), a shipbuilding company from Korea, has awarded Japan Radio Company (JRC), the Samsung-Q Mark Gold award. In 2011 JRC was chosen as a manufacturer of radio & navigation equipment of the highest quality.
In 2002 SHI started this program to achieve the highest rate of customer satisfaction. Since the start of the program, JRC has received consecutively in 2002, 2005 and 2008 the Samsung-Q Mark Silver award and this year received the highest Samsung-Q Mark Gold award. SHI is focused on providing vessels with zero-defects and JRC quality assurance, materials control, after-sales service and production management is proven world class.