Teekay FPSO Receives First Oil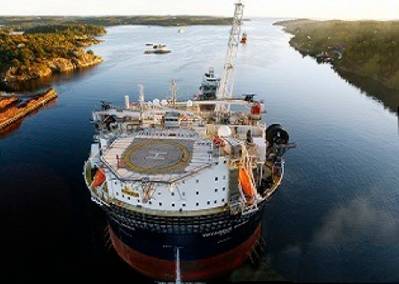 The 'Voyageur Spirit' FPSO has achieved first oil on the Huntington field in the United Kingdom.
Teekay describe the event as an important milestone for on of its largest projects.
The production unit has been installed for its new charter contract with E.ON Ruhrgas UK E&P (E.ON) and the charter is expected to last for a firm period of five years, with extension options.
Teekay acquired the 2009-built Voyageur Spirit as part of the acquisition of three FPSO units from Sevan in October last year. Before undergoing the upgrades, the FPSO operated on the Shelley field in the UK sector of the North Sea from August 2009 to August 2010.

"This is a proud day for Teekay", commented Peter Evensen Teekay's President and Chief Executive Officer. "We are excited that our relationship with Sevan is bearing fruit and that the Voyageur Spirit has commenced production. This day also marks an important milestone in our long term relationship with E.ON Ruhrgas".


Designed with a storage capacity of 270,000 bbls, the Voyageur Spirit FPSO offers a processing capacity of 30,000 bopd and a total liquids (oil and water) processing capacity of 60,000 bpd.