Puerto Rico Towing Receives Tug "HANDY THREE"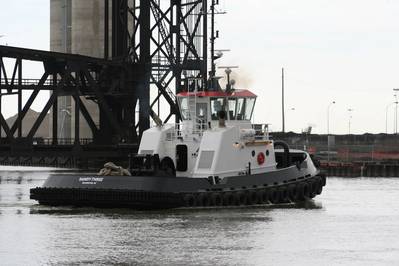 Puerto Rico Towing & Barge Co. is expanding the size of its tugboat fleet with the addition of the newly constructed Handy-Three which arrived in San Juan Thursday morning.
Puerto Rico Towing & Barge Co., a subsidiary of The Great Lakes Group, is located in San Juan, Puerto Rico, and has been providing vessel assistance and towing services to commercial vessels and barges in San Juan Harbor, other Inland Ports, and ports throughout the Caribbean for over 15 years. Recently constructed at Great Lakes Shipyard, Cleveland, Ohio, the Handy-Three is now the fifth tug in the Company's fleet. The new tug is the third of a class of Handy Size tugboats designed by Jensen Maritime Consultants, Seattle, Washington, built specifically for harbor work and coastal barge towing using the tugs new JonRie Series 500 Towing Winch. By making this $5.7 million investment in a harbor tug, the Company improves the efficiency of the fleet's round-the-clock towing services and demonstrates the Company's continued commitment to the local economy by creating sustainable career jobs and putting money back into Puerto Rico. Puerto Rico Towing & Barge Co. will be hosting a christening ceremony for the Handy-Three sometime in the next month.