N-KOM Recognized for Shipyard Safety, Security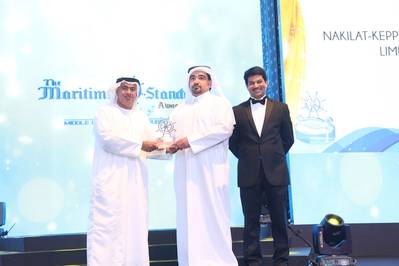 Nakilat-Keppel Offshore & Marine (N-KOM) received the Safety & Security Award at the inaugural edition of The Maritime Standard (TMS) Middle East & Indian Subcontinent Awards, held at Atlantis The Palm, Dubai.

Sponsored by ADNATCO-NGSCO, this is the first award the shipyard has received in the Safety category. The award underlines the company's strong commitment towards safety and effectiveness of its robust safety program, Safety Excellence 2020, which aims to cultivate safety ownership and safe workplace behavior through empowerment, positive reinforcement, recognition and most importantly active involvement from stakeholders across all levels; from its management, employees to sub-contractors and customers.

Eng. Abdullah Fadhalah Al-Sulaiti, Chairman of N-KOM and Managing Director of Nakilat, commented: "This award is a proud achievement for N-KOM. On behalf of N-KOM and the Nakilat family of companies I would like to take this opportunity to thank HE the Minister for Energy and Industry Dr Mohammed Bin Saleh Al Sada for his support, without which this important achievement would not have been possible. I also extend our sincerest thanks to the Board of Directors, N-KOM employees and our partner Keppel Offshore & Marine for their invaluable support."

CEO of N-KOM Mr Chandru Rajwani said, "Safety is an important core value at N-KOM and we are deeply honored and encouraged to receive this award. At N-KOM, we believe that safety is at its strongest when everyone takes individual and collective responsibility towards it. We are fortunate to have the strong support of our clients, employees and partners - all of whom have contributed significantly to this award throughout our safety journey."