Celebration on Reconstruction of Japan Earthquake Devasted Port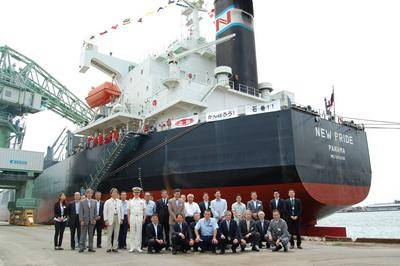 NYK Global Bulk hosts onboard get-together to celebrate reconstruction of Port of Ishinomaki
NYK Group company, held a get-together on board its 58,000-ton bulk carrier New Pride with guests from the Ishinomaki area in Miyagi prefecture to celebrate the installation of a new mechanical unloader (cargo handling machinery) at the port's No. 7 Hiyori wharf and to pray for the further recovery and development of the port.
Two of the port's three unloaders toppled into the sea during the Great East Japan Earthquake and ensuing tsunami, and the port's handling capacity had since been reduced significantly. The newly installed mechanical unloader can unload 400 tons per hour, about double the capacity of the old one, returning the port to its pre-quake capacity and helping revive the port and the surrounding area.
Motoyuki Nose, a managing director at NYK Global Bulk, commented, "This new unloader should have a great impact, and I would like to recognize the endeavors made by all related parties. The NYK Group has supported the recovery of the tsunami-devastated area by offering refrigerated containers and sending volunteers to Rikuzentakata city. The NYK Group has its foundation in Japan and shipping, and the group is thus delighted to be able to contribute to the recovery through our main business, "monohakobi" (transportation)."
At the onboard get-together, Hiroshi Kameyama, the mayor of Ishinomaki; Mitsuhiro Ishikawa, the manager of the Ports and Harbors Development Division of the Miyagi prefectural government; Toru Haneda, the president of Ishinomaki Futo Silo Corporation; and Hiroyuki Kawasaki, the deputy general manager of the Livestock Production Department of Zen-Noh; joined a number of others in attendance.