Redwood City Reports Strong Cargo Volumes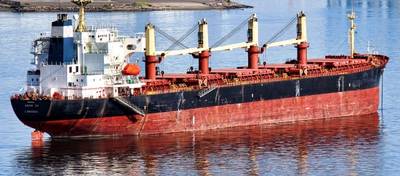 Port of Redwood City reports fiscal year cargo movement fourth highest in modern history
After three years of annual double digit growth in
Port of Redwood City tonnage
from 2012-2014, the fiscal year 2015 Port tonnage declined slightly by 3.8 percent.
However, the total tonnage for the year ending June 30, 2015 was the fourth highest in the port's modern history at 1,715,633 metric tons, reflecting the continuing strong demand for construction materials in Silicon Valley and the South Bay, particularly the high quality sand and aggregates shipped to the port from British Columbia.
Approximate percentage breakdowns by commodities: imported sand 47 percent, imported aggregates 31 percent, exported scrap metal 14 percent; imported bauxite 2 percent; imported gypsum 3 percent; domestic sand 1 percent, and imported ground slag 1 percent.
"The high quality of the sand and gravel aggregates from
British Columbia combined
with the dwindling supply of these materials in
Northern California because
quarries are unable to expand triggered a strong demand that the port benefited from," said executive director Michael J. Giari.
The building aggregates arrive at the port by ships that contain self-unloading features, provided by Canadian Steamship Lines. Eagle Rock Aggregates is the supplier of these construction aggregates. The company operates the Orca Quarry, located on the northeast coast of Vancouver Island, B.C., which is a high quality sand and gravel resource with significant long-term capacities.
Operations Manager Don Snaman said 96 vessels (58 ships and 38 barges) made calls during the year, compared to 89 vessels the year before.