Stranded Greek Bulk Carrier Refloated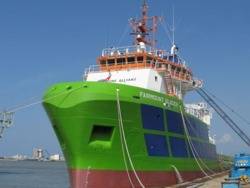 Fairmount tug 'Fairmount Glacier' re-floated bulk carrier 'Akiba' from aground off Mozambique
The Greek owned bulk carrier, Akiba, which was recently grounded off the coast of Maputo, Mozambique, has been successfully refloated.
The tug Fairmount Glacier was mobilised from Cape Town under a salvage operation conducted by Greek company Five Oceans Salvage under a Lloyd's Open Form.
Upon arrival at the site, the salvage plan was discussed between the masters of Fairmount Glacier and Akiba, along with the salvage master.
On the second attempt, the 190m Akiba was refloated sucessfully and towed by Fairmount Glacier to a safe anchor position where the vessel could be examined for damage. Akiba was then towed to Richard's Bay where the cargo was discharged – during which Fairmount Glacier remained on stand-by.
After discharge operations were completed, Fairmount Glacier towed Akiba to Durban for dry docking.
The tug remained on stand-by in Durban while the vessel dry docked, but was relieved of its duties shortly afterwards.
Fairmount's fleet of tugs consists of five modern super tugs of 205 tonnes bollard pull each – especially designed for long distance towing, and a multipurpose support vessel.