Iran Refrains from Oil Delivery to Greece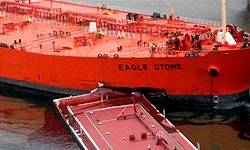 TEHRAN (FNA) - A Greek tanker returned home unloaded after Iran refrained from supplying crude oil to the crisis hit European state, FNA learned on Sunday.
According to FNA dispatches, Iran refrained from supplying the 500,000-barrel cargo to the Greek tanker which was due to deliver it to Hellenic Petroleum refinery.

The development came days after Iranian Oil Minister Rostam Qassemi called on the European countries to make a final decision on oil imports from Iran, warning that they will be sanctioned by Tehran otherwise.

Iran has recently imposed a ban on oil exports to Britain and France as the main two states which pushed the EU to ratify sanctions on oil imports from Iran.

Tehran's last Sunday decision to cut oil supplies to Britain and France came after the EU member states decided to impose a ban on Iranian oil, but said that they would put their decision into effect after six months in a bid to find a replacement for Iranian energy supplies.

A December meeting of the EU foreign ministers in Brussels failed to reach an agreement on such oil embargos against Iran after several members of the European bloc, specially crisis-hit Greece, voiced opposition to any sanction on Iranian oil, pushing France, the most hawkish EU member, back.

Greece would be particularly affected by oil sanctions as other exporters have refused to deal with Greek traders. According to official reports, previous suppliers of crude oil, Russia, Azerbaijan and Kazakhstan, have stopped trading with Greece due to precautionary measures in case Greece is unable to pay, even though thus far no payments have been reneged on. But, Iran has extended credit to Greece, which few other oil exporters are willing to do.

Yet, after months of White House pressures on the EU, the European bloc eventually agreed in a ministerial meeting of the member states on January 23 to sanction oil imports from Iran and freeze the assets of Iran's Central Bank within the EU.

Following the move, Tehran summoned the ambassadors of Italy, Spain, France, Greece, Portugal and the Netherlands to protest at the EU's unilateral sanctions against Tehran over its peaceful nuclear program, and warned them that it would soon stop oil exports to these countries if they do not reverse their decision.

Later in January, the Iranian oil ministry in a statement downplayed the effects of the US and EU's unilateral oil sanctions against Tehran, and said such embargoes would merely harm the European economies and oil consuming countries.

European sanctions against Iran's oil exports will affect the world economy and hurt the European and non-European countries, the statement said.

"The hurried decision by the EU states to use oil as a political tool will have a negative impact on the world economy and specially on the recovering European economies which are fighting to overcome the global financial crisis," it added.

The statement continued that since just 18 percent of oil produced by Iran is exported to European countries, the Islamic Republic can easily replace new markets with the European market.

Several European refineries have gone bankrupt and shut down business after Tehran announced in January that it would soon cut supplies to those EU member states which would sign into the new sanctions against Iranian oil.

Also following Iran's move to cut oil sales to British and French firms, the price of Brent crude hit an eight-month high in Asian markets, reaching $125.47 per barrel on Friday.