IceBlue Refrigeration Offshore Marks Successful Year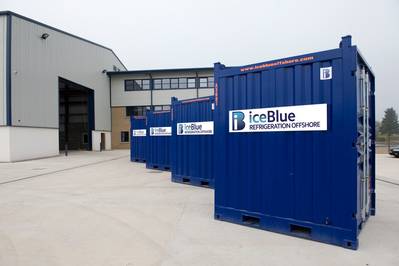 Ferguson Group's IceBlue Refrigeration Offshore, celebrates first year of supplying specialist refrigeration containers to offshore energy sector
IceBlue Refrigeration Offshore was formed last year in response to the increasing market demand for offshore refrigeration and freezing containers for food transportation and storage. Since its launch in June 2011 the company's fleet has expanded two-fold with plans in place for further product enhancements to be delivered in the second-half of 2012.

With refrigeration containers available from all of the Ferguson Group's bases, IceBlue Refrigeration Offshore is able to respond quickly to its clients requests, directly from one of the international bases in UK, Norway, United Arab Emirates, Singapore, and Australia or through its partner network in Vietnam, Kazakhstan, Azerbaijan, Malta, Malaysia, Indonesia, India, Ghana, East Timor, New Zealand and Trinidad.

Steven Ferguson, Chairman and CEO of the Ferguson Group, said: "It has been a successful first year for IceBlue Refrigeration, with its fleet increasing substantially in the first 12 months. I am delighted that plans are in place to grow the fleet even further over the coming year. Having stock based at each of our international bases is critical towards ensuring that IceBlue Refrigeration Offshore is well placed to mobilise its fleet as quickly as its customers require them."

In the past month, Ice Blue has sent additional new containers to Singapore, Trinidad, Ghana and the Middle East and is working on product developments that have been tailored specifically for the Australian and New Zealand markets. The Norway base continues to be very busy supplying refrigeration containers to North Sea clients – providing them with a range of refrigeration containers (2.5m – 6.0m).