Yacht Race Team GAC Pindar Wins German Regatta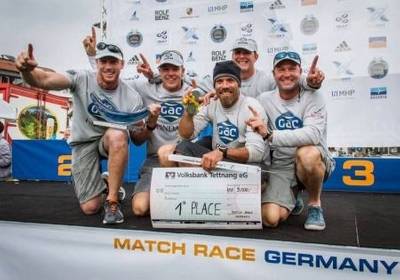 Team GAC Pindar claims first win of 2013 ALPARI World Match Racing Tour at Lake Constance.
Reigning Match Racing World Champion and Skipper of Team GAC Pindar Ian Williams has secured victory in the first regatta of the season at Match Race Germany.
Overcoming erratic weather conditions at Lake Constance, Langenargen that required organisers to suspend racing several times during the event, British sailor Ian Williams and his crew were leading 2009 World Champion Adam Minoprio of Team Alpari FX 1-0 in the best-of-three final before light wind conditions saw the Final curtailed, handing Ian the Match Race Germany title for the first time in his career.
Ian was in great form all weekend, having topped the round-robin qualifiers and then showing real grit to come back from an overnight 2-1 deficit to clinch his place in the final with a 3-2 win over Stena's Johnie Berntsson, before taking what proved to be a decisive lead in the Final.

Andrew Pindar, Team Principal of Team GAC Pindar, said: "This is a brilliant start to the season and hopefully a great sign of things to come as Ian continues his bid to secure a historic fifth World Championship crown. We all saw the depth of quality in the field in this season's tour and how narrow the margins of victory can be, so we'll enjoy this victory but are already focused on the final preparations for the Korea Match Cup."

The next ALPARI World Match Racing Tour (AWMRT) regatta takes place between May 28 and June 3 at the Jeongok Marina in Gyeonggi-do, South Korea.

In the picture: Ian Williams and the GAC Pindar crew, Mal Parker, Bill Hardesty, Graeme Spence and Willem Van Waay, winners of the 2013 Alpari World Match Racing Tour in Germany.