New Regulations Drive Market Step Change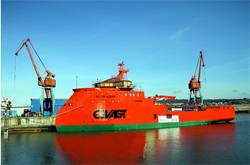 New regulations on davits used in the offshore industry on both sides of the Atlantic are driving a step change in safe davit design. In the USA API 2 and in Norway NORSOK R002 regulations will come into force from 2015.

Both sets of regulations apply to davits and lifting appliances used on offshore installations and specify many new design features and safety systems. In Norwegian waters, NORSOK R002 will be retrospective, requiring every davit on offshore platforms in Norwegian waters to be inspected and updated to the new standards.
Although strictly applying only to fixed installations, the new standards are already being seen as raising the bar for offshore boat handling systems on ships serving in the offshore industry. It is likely that the majority of offshore contractors and labor organizations will demand the same standards of safety on ships as on fixed rigs.
Key elements of both sets of regulations are requirements for a dual independent winch brake system, reinforced davit structure, and hydraulic power pack and electrical cabinet built in compliance with EX zone regulations. Most modern offshore davits are already fitted with required safety features like self tensioners and SOLAS emergency systems.
All these new requirements bring all offshore davits up to the standards of best practice already prevailing. They are not new to the world leaders in boat handling, and the regulations now make mandatory many of the features which Vestdavit has been designing into its davits for years.
Denmark's Esvagt was the first offshore service company to specify NORSOK 2002 standard for its new generation of field support vessels. The Esvagt Aurora was built in Spain and will be delivered this summer fitted with a NORSOK R002 built PLR-5000 Man Overboard Boat davit. It will be chartered to ENI for deployment in the Barents Sea Goliat field. Vestdavit's NORSOK R002-compliant range of davits will make the Esvagt Aurora safer and more employable.