Venture Boat Co. Relaunches Itself on Market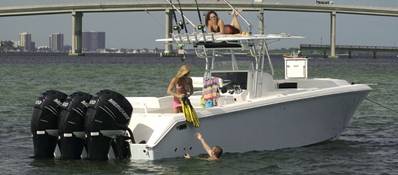 Under leadership of new owner, Lee Heaton, US-based Venture Boat Company features modernized new additions to its range.

Venture Boat Company has undergone a complete modernization, adding a number of innovative improvements to their existing models, introducing new models and moving production to the world-famous American Custom Yachts (ACY) facility in Stuart, Florida.

Through their new partnership with American Custom Yachts, Venture Boats is not only able to provide customers with the unique ability to customize their boats with a number of different options before leaving the assembly line, but also offer a complete selection of marine services under one roof, including a fully-equipped paint facility, state-of-the-art marine electronics, a comprehensive range of custom anodized tuna towers, marine canvas and upholstery services, and a machine shop to meet a broad range of customer needs.

The boatbuilders say they are committed to using only the best materials, including biaxial fiberglass, Kevlar, Divinycell PVC foam core and vinylester resin, with all construction materials specifically chosen to improve performance and strengthen durability.

Featuring new management, branding, an updated user-friendly website and enhanced customization options to meet each client's unique boating needs, Venture Boat Company has updated every aspect of its business to provide good customer service and attention to detail.