AVEVA Releases AVEVA Surface Manager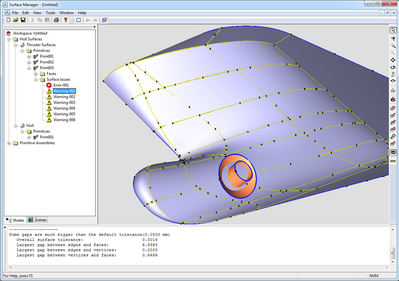 Improve marine design quality through standards based transfer of surface to and from external systems.
AVEVA, an engineering design and information management solutions for the plant, power and marine industries, has announced the release of AVEVA Surface Manager 12.1, another new product in its AVEVA Marine portfolio. AVEVA Surface Manager allows the transfer of surfaces to and from external systems, by the use of neutral standards offering greater flexibility and increased design quality.

Features of AVEVA Surface Manager include the import of surfaces from various formats for use in AVEVA Marine and graphically displaying the shape of the geometry. It supports the most commonly used formats: IGES, SAT, DML and STEP AP 203 for the import and export of surfaces. In addition, AVEVA Surface Manager also enables the extraction of surfaces from existing AVEVA Marine projects for conversion into external formats for use in third-party software.
The new product also offers tools for quality assessment of the managed surface and, if needed, can repair defects detected in surfaces transferred from third-party applications in order to be successfully used in the AVEVA Marine applications.

For the sub-division of work packages, AVEVA Surface Manager can also easily split surfaces so shipyards can protect the investment and confidentiality of their hullforms by only distributing to sub-contractors the part of the hullform they need to do their work.

"AVEVA Surface Manager gives AVEVA Marine users the freedom to use the surface system of their choice and efficiently transfers the surfaces into AVEVA Marine", said Stéphane Neuvéglise, Head of Business Management – Marine Systems, AVEVA. "It also increases design quality as Surface Manager allows users to check the imported surface quality and to repair surface defects before they are allowed to propagate in the design. Perhaps most importantly, it also helps shipyards to protect their Intellectual Property, by distributing only necessary components of the hullform to subcontractors".