Maersk Container Line Leads in Reliability Says Report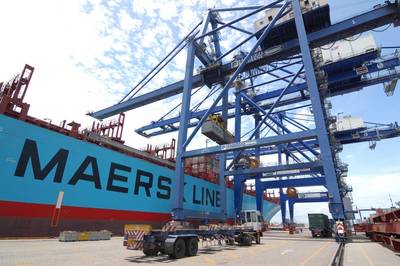 A new research report confirms the Asia-Europe product 'Daily Maersk' continues to lead competitors in reliabiltiy ratings
The report, a joint effort between ecommerce network provider INTTRA and container shipping analyst SeaIntel, examined the performance of the top 20 container lines in schedule reliability.
In the past year, Maersk Line has been the No.1 carrier in eight of the months and No.2 for four. The report also highlights, among others, the effect of Daily Maersk on Maersk Line's June reliability, a month when many carriers saw reliability dip.

"Maersk Line reached a 98% on time performance to North Europe in June, which is the highest performance seen in 2012 of any carrier, which clearly shows not only their commitment to the 'Daily Maersk' concept, but also their operational capability of actually delivering it," reads the report.

The significance of the June performance is that it marks the end of a three-month period known for the lack of reliability from shipping lines.
"This year has been a bit special," says Clerc, Maersk Line's chief trade and marketing officer. "Many carriers have adjusted their networks after the Chinese New Year as they phased in new cooperation, such as the G6 or the cooperation between MSC and CMA. It has been a tough time for customers, but overall the product offering on Asia-Europe will be greatly enhanced as a result. I guess it is another positive impact for Daily Maersk.
Daily Maersk achieved 97% reliability in this period, a result that Maersk Line's Vincent Clerc says emphasises the value of the product.