Wavestar Wave Power Plant to be Relocated, Upgraded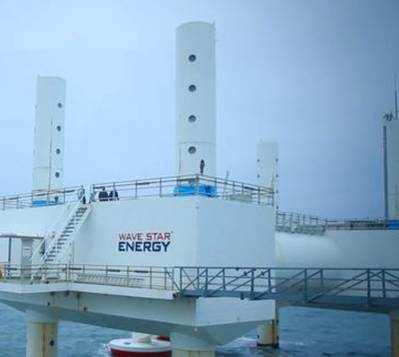 Wavestar's system of wave energy is being updated with new equipment that will make this type of energy more competitive in the future. The plant will be moved to a new location off Denmark's Hanstholm where there are larger waves.
"The crucial part in turning wave power into a commercial success, is efficiency, i.e. how much of the recorded energy it is possible to deliver all the way to the grid, and ultimately the price per kilowatt hour", explains Bent Kristensen, CEO of Wavestar A/S.



In the coming period it is likely in Port of Hanstholm to experience greater wave energy being drawn close to shore. During the next couple of days, divers, when weather permits, are loosening the plant from the concrete foundation by means of explosives. The move will be take place as soon as wave conditions are optimal.



The extensive work is done partly to expand the facility by a further two floats, thus increasing capacity and partly to upgrade it with a digital hydraulic system, developed in collaboration with Aalborg University, which will increase the efficiency considerably. Finally, the system is to be moved to a new location outside Hanstholm with larger and more regular waves.

"With the implementation of our new hydraulic system, we expect that the efficiency will be increased considerably. Based on tests at Aalborg University, we estimate that the efficiency of the system will rise from 60 to an initial 75 percent. Thus we begin to approach something that can compete with other forms of renewable energy", says Bent Kristensen.