Adm. Papp Advises Coast Guard Cadets "Remember the Chief's Mess"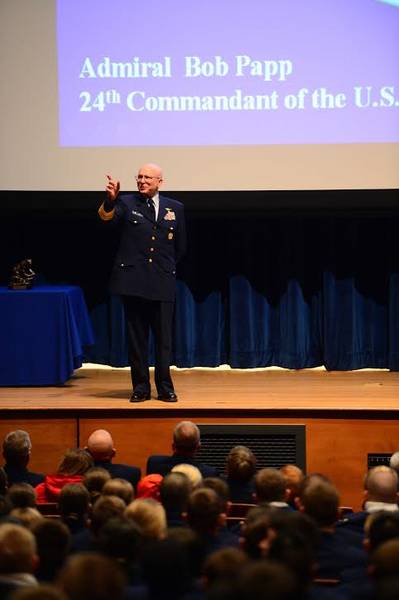 At the United States Coast Guard Academy, hundreds of cadets funneled from the bitter January cold into Leamy Hall to hear a personal address from Coast Guard Commandant Adm. Bob Papp, and this year to hear a different sort of speech.
"This year, I don't have a formal speech prepared for you," said Adm. Papp. "I thought tonight, rather than talking about lofty ideas and theoretical leadership, I'd talk about some practical matters to consider. I'm going to be very personal and candid tonight with you and hopefully at the end of it, you'll have gained something from it."

Adm. Papp proceeded to take the cadets on a virtual journey through his career, focusing on his experiences commanding the Coast Guard cutters Red Beech, Papaw, Forward and Eagle, and several important lessons he learned along the way.

Above all, Adm. Papp stressed the importance of utilizing the expertise and proficiency of the Chief's Mess.
"If you remember nothing else tonight, remember to use the Chief's Mess," said Adm. Papp. "That's a good start for all of you."
The Coast Guard Commandant urged the cadets to use their time at the Academy to learn everything that they can about leadership and to practice it, exercise it and learn from their mistakes.

As Adm. Papp's tenure as Commandant draws to a close in the coming months, this will be the last time many cadets will hear him speak as Commandant of the Coast Guard. At the end of his address he was presented a Corps of Cadets flag, signed by each cadet.