MCPO Navy: 'Please Remember Our Navy Families' July 4th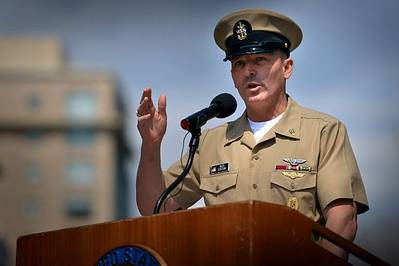 Excerpts from Master Chief Petty Officer of the Navy Mike Stevens' 4th of July message to Sailors and their families:

"As we take time to celebrate 237 years of independence, let us remember to reaffirm our own commitment to liberty and freedom. Let us remember the meaning of the 4th of July, the meaning of the Independence Day. 

Take a moment to reflect on a portion of the Declaration of Independence . . .

"We hold these truths to be self-evident, that all men are created equal, that they are endowed by their Creator with certain unalienable Rights; that among these are Life, Liberty and the Pursuit of Happiness." 

While many of us enjoy fireworks, festivals, parades, and cook outs together to give thanks for our freedom and what our Country has become: the freest, most inspired and resilient Nation on earth, please remember the thousands of Sailors who are deployed around the world protecting these very freedoms.
Please remember our Navy families who stand the watch at home so our Sailors can focus on missions on the ground, in the air, and at sea. 

I am very proud of each and every one of you for the sacrifices you and your families make for our great Navy and Nation. 

Continue to work hard, stay out of trouble, and be good and decent people. 

Happy Independence Day!

Very respectfully, 
MCPON"