Renewable Energy on Ships: ECO Marine Sees Potential in U.S.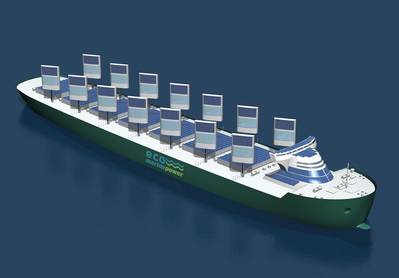 In a step towards bringing renewable energy to shipping, Eco Marine Power (EMP) has been granted a United States Patent for technology related to its wind and solar power system for ships – Aquarius MRE. As a result, EMP now intends to explore joint development project opportunities in the United States and is currently considering a number of options.
Technologies related to EMP's Aquarius MRE can be incorporated into existing ship designs such as cruise ships, RoRo vessels, large ferries, car carriers or into future design concepts such as the Aquarius Eco Ship. Aquarius MRE® technologies are also suitable for applications such as unmanned surface vessels (USV's), naval ships, coastguard vessels and offshore renewable energy projects.
Aquarius MR® is an integrated system of rigid sails, marine-grade solar panels, energy storage modules and marine computers that will enable ships to tap into renewable energy by harnessing the power provided by the wind and sun. The array of rigid sails are automatically positioned by a computer system to best suit the prevailing weather conditions and can be lowered and stored when not in use or in bad weather.
The rigid sails used by Aquarius MRE® are based on EMP's EnergySail® technology (Patent Pending). These renewable energy devices can even be used when a ship is at anchor or in harbour. Each EnergySail can be configured with a mix of sensors, photovoltaic panels or other power generation devices.
When a ship is at anchor or in port, batteries approved for use on marine vessels can provide an alternative source of power - thereby reducing the fuel used by auxiliary generators. In certain situations it will also be possible for a ship to operate emission free when in port.
This will become an increasingly important capability as port authorities implement strict airborne emission control regulations.
Aquarius MRE sub-systems are currently being evaluated on the ship Blue Star Delos which operates in the Aegean Sea and tested in Onomichi, Japan.