Rentocean to Supply Offshore Brazil Project Cable Carousel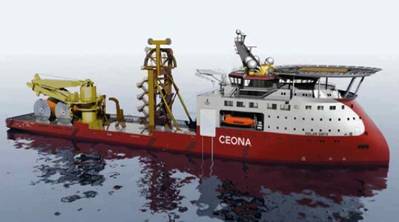 RentOcean, a 100 percent owned subsidiary of Oceanteam Shipping ASA, has been awarded a contract to supply Ceona with a certified 2000t modular carousel system and a loading tower with built-in 15t tensioner for a one-year project plus option for one additional year.
The carousel and the additional equipment will be used on Ceona's Polar Onyx vessel for the installation of flexibles, which will take place in 2014 and 2015 offshore Brazil. RentOcean will also supply technicians to ensure smooth operations.

Rentocean explain that the new patented carousel series is designed for flexibility and quick mobilisation on standard PSV/CSV with limited deck load. Fully loaded, the carousels have a maximum deck load of 8t m2, eliminating the need for under-deck reinforcement. The modular systems are delivered to the mobilisation site in 40ft containers. All system components are 'plug and play' and interchangeable.

With this design the equipment is sea- and road transportable, and can be mobilized in a cost effective manner to all ports globally.

About RentOcean
RentOcean owns and operates from its deep water base in Velsen, in The Netherlands, a large pool of carousels, tensioners and burial equipment which it supplies and rents to a broad client base around the world to support offshore cable, pipeline and umbilical installations, transport and storage projects.