New Chains Replace Steel for Lashing Cargo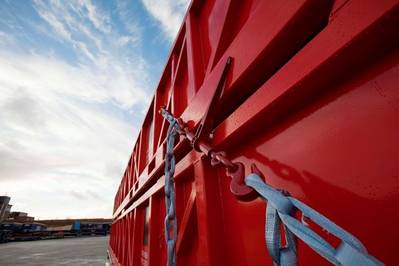 Industrial chains for handling heavy loads are being produced for the first time from DSM's ultrahigh molecular weight polyethylene (UHMwPE) fiber, branded as Dyneema.
DSM Dyneema has formed a strategic partnership with Load Solutions AS in Bergen,
Norway
, for development,
manufacturing
, sales and marketing of link chains made with Dyneema fiber. The chains, branded as TYCAN, are fabricated from webbings and have numerous economic, environmental and safety advantages over traditional chains that for centuries have been made in iron and steel.
TYCAN is produced for Load Solutions AS by Industrias Murtra.S.A., a textile manufacturer based in Spain. The first products have created interest in several markets during their development phase. Certification and testing have been taken place during the last two years. TYCAN chains have passed the first and second levels of certification by DNV GL. Full and final certification of TYCAN is expected in early 2015.
"DSM Dyneema and Load Solutions came together because we both understood the overwhelming advantages of link chains made with Dyneema," says Dietrich Wienke, manager of new business development at DSM Dyneema. "Our fiber is the only fiber in the world capable of giving the TYCAN chains what they need: superior strength at lowest weight, unbeatable bending fatigue and abrasion resistance, plus excellent outdoor performance and endurance even in very harsh operating conditions."
The TYCAN chains are made with Dyneema DM20 fiber, based on Dyneema Max Technology, a platform for extremely low-creep solutions. The fiber makes the chains efficient and safe to use, resistant to
chemicals
and seawater-proof. Because Dyneema has a density of less than one, TYCAN is the only chain in the world that floats on water, and yet it can hold in place a wind turbine wing weighing six metric tons, a 60-metric ton battle tank, or even a 600-metric-ton electrical mega power transformer, the manufacturer said.
The chains can be wrapped over the edges of cargo without suffering any damage. They also withstand the sorts of shock loads that may occur on ships sailing through very stormy weather, without any stretching that might cause the cargo to shift. Chains are also more flexible than ropes for holding heavy loads, and it is very easy to shorten link chains to the required length for any particular job, by doubling them back using hooks.
"The heavy steel chains that the cargo lashing market has relied on until now are difficult and noisy to use, they can rust, and they are tough on cargo, equipment and lashing crews," said Kjell M. Veka, managing director at Load Solutions AS, "TYCAN chains with Dyneema are up to eight times lighter than regular steel link chains with the same strength. We want TYCAN chain to be the natural choice when securing cargo."
Because TYCAN chains are lighter than steel versions, they can be handled with greater ease and put into position much faster. The fact that TYCAN chains make far less noise than steel chains when they are being handled is yet another important advantage, both for operatives and management. Operatives can communicate much more easily, for example, which helps them work more safely and efficiently.
Several sets of field trials have already been completed for different markets, and two partners have been acting as pioneers within each of those markets. Mammoet Europe B.V., in Schiedam, The Netherlands, evaluated the chains on their mega trucks and trailers while Nor Lines A/S, a shipping company in Stavanger, Norway, has been testing TYCAN chains for tying down loads on ships.
Marcel Schets, manager of safety, health, environment and quality at Mammoet Europe, said, "Safety, health and innovation are important pillars within Mammoet. They were successfully matched, when it came to replacement of regular steel chains with light and strong TYCAN link chains. In the field trial program, one of our mega trucks and trailers was equipped with TYCAN lashing chains to lash down oversized heavy cargo safely while driving over European roads. We found the chains to be very light and easy to use, and they improved the overall safety of our workers."
Heidi Skare, operations manager, Nor Lines A/S, said, "The new chains have been a great success in lashing oversized and regular cargo on three of our cargo vessels over a period of several months and in challenging weather conditions. The experience confirmed their huge benefits. We observed less damage and we experienced much easier and faster handling with better ergonomics and comfort. We are now ready to move to full fleet conversion with TYCAN chains on all of our nine special cargo vessels."