US Navy Ships Conduct Astern Replenishment-at-sea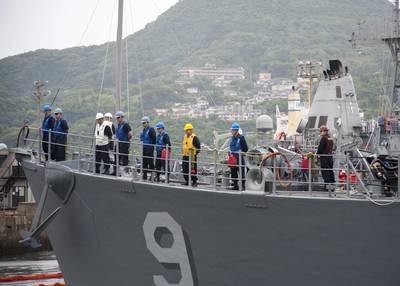 "While replenishments-at-sea are routine, astern refueling is unique and requires precise navigation and coordination," said Lt. Cmdr. Jason Ileto, fleet replenishment scheduler for Commander, Logistics Group Western Pacific. "[USS Pioneer (MCM 9)] and other minesweeping vessels have fueling stations on their bows and require astern refueling."
An astern replenishment-at-sea was conducted by Avenger-class mine countermeasures ship Pioneer and Lewis and Clark-class dry cargo ship
USNS Richard E. Byrd
(T-AKE 4) in waters south of Japan, August 24.
During normal replenishment evolutions, ships fueled at sea typically connect to each other alongside. Astern refueling is the earliest type of replenishment operation used by the U.S. Navy. The receiving ship follows directly behind the supplying ship, though this evolution is more limited as only one transfer rig can be set up.
According to the Navy, the astern refueling of Pioneer reflects the flexibility of
Military Sealift Command ships
and crews to deliver innovative expeditionary logistics support to the fleet. Richard E. Byrd and Pioneer are currently operating in the U.S. 7th Fleet area of responsibility.