Port of Little Rock Reports Strong May Volumes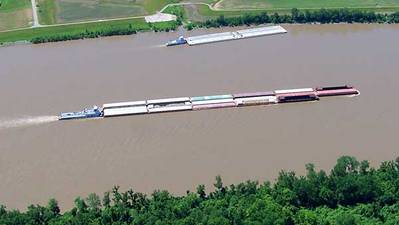 The Port of Little Rock has reported 73,000 net tons of total barge tonnage in May. Dock activities compared favorably over the previous year with Logistic Services, Inc. (LSI) handling 228 barges during the first five months of the year. 350,000 net tons of various commodities moved across the docks at the port.
Cargoes handled across the docks included potash, sulfate, triple phosphate, urea, rock and sand, wetcake, bauxite, lightweight aggregate, wire rod coils, aluminum ingots, aluminum tee and sows, scrap and steel coils. "This material is used by the 40 companies within the Little Rock Port Authority (LRPA), providing more than 3,000 jobs, as well as other companies in Arkansas via LRPA's private railroad that connects to both the Union Pacific and Burlington Northern rail lines," said Executive
Director Bryan Day
.
The U.S. Army Corps of Engineers reports that 972,949 tons of commodities moved through the McClellan-Kerr Navigation System in May 2016.
"The Port of Little Rock continues to have a significant impact on the inland river system, moving a large portion of the commodities that travel the
Arkansas River
," Day said. "The first months of 2016 have been strong months for waterborne commerce and the river conditions have been mostly favorable to handle these commodities. We remain optimistic, even in light of the low oil process, that the Port of Little Rock will have a solid year in terms of tonnage across our docks."