Repower Gives New Life to '80s Supply Vessel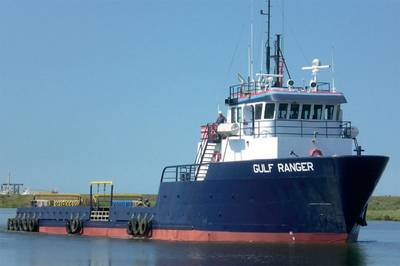 Repower brings 1985-built supply vessel into Tier 3 compliance
As the drilling industry increasingly returns to shallow water operation, Laborde Products is poised to help offshore transportation companies command the best use of their fleets. Laborde's Mitsubishi engine lineup offers a choice for upgrading older-model small utility boats.

Repowering Gulf Ranger, a 150' mini-supply vessel owned by Cape Coastal Marine, brought this 1985 build into compliance with Tier 3 regulations. Her new twin Mitsubishi S6R2-Y3MPTAW engines, rated 803 hp at 1400 rpm, also ensure dependability, improved performance and greater fuel efficiency.

Representing the first supply boat repower for Laborde, Gulf Ranger is also the first such Mitsubishi Tier 3-compliant, mechanical-powered offshore support vessel working in the Gulf Coast. Her primary tasks are to help sustain drilling, diving, and seismic survey activities. Gulf Ranger also provides a food and housing area for oil field workers, mostly in the shelf water of the Gulf of Mexico.

Originally equipped with a pair of outdated engines, Gulf Ranger was overdue for a replacement. "Annual repair costs were consistently over budget," said Jim Spalt, consultant for Cape Coastal Marine. Her hull was still sound, however. "With a platform in demand for work in the Gulf of Mexico, it made sense to extend the working life of Gulf Ranger with new Tier 3 engines," said Spalt.

Spalt was initially impressed by the Mitsubishi units he saw being installed in a newly-built 100' tug at a Lockport shipyard. He then toured the Laborde facility in Covington, Louisiana. "I realized Laborde was in the game for the long haul. The fact that their warehouse had enough parts in stock to reconstruct my engines from scratch told me that service was a major part of their business." Spalt also noted the ease of installation. "Any questions we had were immediately responded to by the Laborde team. The process was easy."