Family Rescued by U.S. Navy Heading Home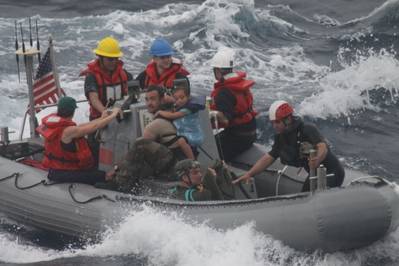 A family of four rescued from their sailboat after the youngest of two children became seriously ill are due to return to California on Wednesday aboard a U.S. warship that picked them up over the weekend, Navy and Coast Guard officials said.

Military officials declined on Monday to give any details on the medical condition of 1-year-old Lyra Kaufman except to say that she, her 3-year-old sister, Cora, and their parents, Eric and Charlotte Kaufman, were all safe as they headed back to port in San Diego.

"I know she's stable enough to stay on board the ship to continue to San Diego," Coast Guard spokeswoman Lieutenant Anna Dixon said.

The family was two weeks into a planned around-the-world cruise on their 36-foot (11-meter) sloop when Lyra developed a fever and rash, prompting her parents to send a distress call to the Coast Guard by satellite phone on Thursday.

In addition to the child falling ill, the family reported that their boat was taking on water whenever they tried to start the vessel's engine, Dixon said.

A four-man team from the California Air National Guard's 129th Rescue Wing was dispatched by military plane to the scene, about 1,000 miles (1,600 km) out in the Pacific off Mexico, to render immediate medical assistance.

The rescue team parachuted into the ocean, reached the sailboat in a motorized inflatable dinghy and boarded the family's vessel late on Thursday to treat the child.

The rescuers then remained on the sailboat with the family until the Navy frigate, the USS Vandegrift, which had been conducting routine operations off the Southern California coast, arrived on Sunday to take all four Kaufmans aboard for a return voyage.

The sailboat, christened the Rebel Heart, was scuttled by the Navy as a navigation hazard, in concurrence with the family that the boat was not seaworthy enough to tow back to port, Dixon said.

The family resides in San Diego, which is also the Vandegrift's home port, said Lieutenant Lenaya Rotklein, a spokeswoman for the U.S. Navy Third Fleet.

The Kaufmans have defended their decision to take their young children out to sea on such a trip.

"We understand there are those who question our decision to sail with our family, but please know this is how our family has lived for seven years," they said in a statement on Sunday. "We ... remain confident that we prepared as well as any sailing crew could."

Still, in a blog post one week into their journey, Charlotte Kaufman said of their voyage, "This may be the stupidest thing we have ever done."

Navy and Coast Guard officials declined to comment when asked whether the Kaufmans had shown poor judgment in embarking on round-the-globe sailing voyage with an infant and toddler.
(By Steve Gorman; Reporting by Steve Gorman; Editing by Cynthia Johnston and Ken Wills)