Cruise Ship Rescues 70 Off Alaska Coast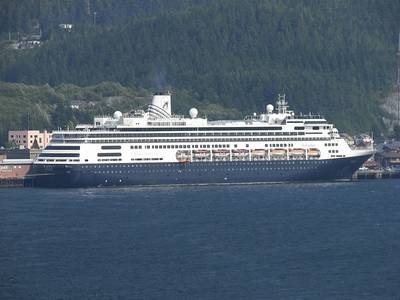 Holland America Line's 'Volendam' rescues 70 stranded sightseers in Glacier Bay, Alaska.

While en route to Margerie Glacier in Glacier Bay, Alaska, Holland America Line's Volendam rescued 70 persons from a disabled sightseeing boat, having responded to a distress call from the 79-foot sightseeing vessel Baranof Wind, which struck a rock near Russell Island in Glacier Bay disabling its steering and propulsion and causing the boat to take on water.

The cruise ship lowered a tender, which collected 69 tourists and one Glacier Bay park ranger and returned to Volendam, where the passengers were cleared through security, given a safety briefing and then provided a meal. Volendam continued on to Margerie Glacier following the rescue.

Volendam rendezvoused with an Allen Marine boat later to transfer the rescued passengers back to Bartlett Cove, where their excursion originated. The ship proceeded on to its next port call at Ketchikan, where it was expected to arrive on schedule today.

The U.S. Coast Guard thanked the crew of Volendam for their quick response to the emergency.

"It's the code of the sea to provide assistance in an emergency, and Captain Peter Bos and his crew responded quickly and professionally to render aid to the passengers of Baranof Wind," said Stein Kruse, president and CEO of Holland America Line. "We are proud of our officers and crew, and this is shining example of how our training prepares us to react to any situation."