Navy Ships in Marine Mammal Research Study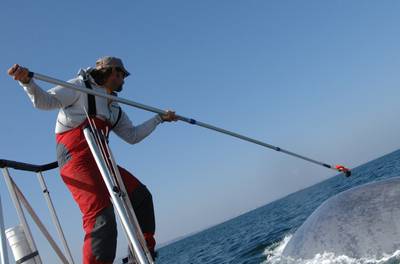 Independent researchers working in coordination with the Navy ships 'USS Dewey' and 'USS Cape St. George' have conducted ground-breaking marine mammal behavioral response studies (BRSs) on the Navy's Southern California Offshore Range.
During the studies, scientists attached data tags to a total of six marine mammals and tracked the animals' movements and behavior in response to sonar signals from the ships. 

While past behavioral response studies have used ocean research vessels with simulated sound sources, or depended on tagging of marine mammals during Navy at-sea training, these latest studies represent the first time U.S. Navy mid-frequency active sonar transmissions have been used for controlled exposure experiments on marine mammals.

"While playback studies and tagging during training exercises provide valuable data, BRSs that use real-time sonar from warships in a controlled experiment have great potential to help us understand how marine mammals are affected by Navy activities under realistic scenarios at sea," said Dr. Bob Gisiner, Naval Facilities Engineering Command (NAVFAC) program manager for the Navy's Living Marine Resources (LMR) Applied Research Program. 


Using data tags with suction cups that can remain attached for 24 hours or longer, the team tagged two blue whales, two Risso's dolphins, a fin whale and a Cuvier's beaked whale. 


To read the BRS scientists' blog, visit: http://sea-inc.net/2013/07/26/begin-socal-13 /.