Chinese Research Ship's Nigerian Mission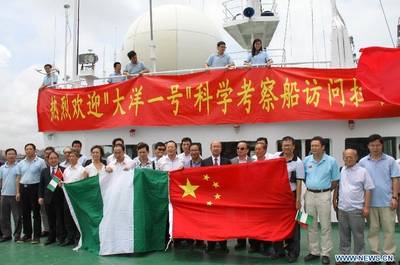 Chinese scientific research ship 'Dayang Yihao' starts research mission with Nigerian & Chinese scientists on board.

More than 100 Chinese and Nigerian scientists and officials attended a ceremony at Apapa Harbour, Lagos, on the launching of the cooperative mission.
This is the first time that marine scientists from China and Nigeria have worked together on sea research, said Tang Yong, the chief scientist of the ship's research team.

Tang said the research will help Nigeria to find out more about the fishing conditions of its seas, adding the ship is expected to conclude its voyage by the end of August.



The Nigerian Navy has sent six personnel to provide security for the visiting team.



Dayang Yihao is the only open-ocean going vessel designated and equipped for deep-sea research in China. 


Liu Xianfa, China's consul-general to Lagos, said: "All of us are here to witness an important moment for Chinese and Nigerian scientists for the first time to engage in an maritime research, aiming to find more information on the ocean. The scientific joint research program will benefit both of the two countries and the world people."