Marin $18.8m Subsidy for Research Lab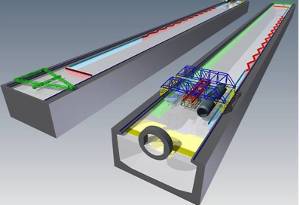 Marin has been granted a $18.8m government subsidy for the construction of a unique research laboratory. The Dutch Minister of Economic Affairs, Maria van der Hoeven, was to officially announce the subsidy on a visit to the Marin headquarters on March 15.

The "Twee Fasen Laboratorium" (TFLab), or "Two Phase" laboratory, will be unique in the world and it means that Marin has new possibilities to work on improving the safety of the shipping and offshore industry. Marin can also examine ways to improve energy efficiency and to reduce emissions. With this investment in the research facility the Ministry of Economic Affairs reinforces the competitive position of the Dutch maritime sector internationally.

With this investment grant, which has been made available from a special economic strengthening fund, Marin's main Vacuum Tank in Ede will be rebuilt into an entirely new facility. The existing Vacuum Tank already offers the possibility of studying the behavior of ships and constructions under any vacuum circumstances.

Wave-creating devices, wave-dampening and measuring systems will be added to the new Vacuum Tank. In combination with the graduations in atmospheric pressure, the behavior of ships in waves can be significantly better simulated. This facility will be able to take MARIN into entirely new research directions in the field of flooding, wave impacts and in improving the efficiency of propulsion and in reducing resistance. One interesting factor is that waves of 21 m in altitude will be able to be simulated in the new facility. This is twice as high as the simulation possibilities in the current facilities of Marin.

These new research possibilities make an important contribution to the strengthening of the international position of MARIN and to the competitive position of the Dutch maritime sector. The facility is expected to be completed end-2011.