Summer Shark Research Heats Up at WHOI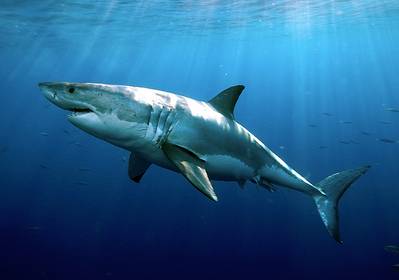 WHOI scientists will collaborate with the non-profit shark research organization OCEARCH on a month-long expedition starting out on 31, July 2013, to tag white sharks and collect valuable blood and tissue samples off the coast of Cape Cod. The OCEARCH vessel is uniquely equipped to catch, tag, and bio-sample sharks before they are released.
As mythic as sharks are, surprisingly little is known about these apex ocean predators. Scientists and engineers at Woods Hole Oceanographic Institution (WHOI) are teaming up with strategic partners to gather crucial scientific data on these elusive creatures and to inform the public about their findings.
Little is known about population sizes and movements of many large shark species. "We're missing the very basics: what they eat, how often they eat, where they breed. There's a real knowledge gap," said Simon Thorrold, WHOI senior scientist, who will conduct research aboard the M/V OCEARCH.

The expedition will help scientists collect the information needed to inform potential conservation and public safety strategies for Cape Cod's white sharks.

"I've been studying shark ecology, life history, and behavior for just about 30 years. And the reason I do that is so we can have the best available, most comprehensive information on how these animals live, ultimately so we can manage them at sustainable levels," said Greg Skomal, WHOI adjunct scientist and MA Marine Fisheries biologist who will lead the research aboard the M/V OCEARCH.

As apex or top-of-the-food chain predators, fluctuations in shark numbers can affect the entire marine food web.

Preliminary research has found that many of these white sharks travel to remote oceanic habitats in the central North Atlantic Ocean, which makes it challenging for scientists to study them. Also, many of the individual white sharks are transient and do not stay in the waters off Cape Cod for long. This gives scientists a narrow window of opportunity to gather data on them while they pass through.

Until recently, scientists have been limited in their ability to observe white sharks. But engineers in WHOI's Oceanographic Systems Lab, which invented the autonomous underwater vehicle REMUS, have developed with funding from the Discovery Channel new technologies to gather information on these creatures in their natural habitat. Some of these advances will be unveiled on Discovery Channel's "Shark Week" on Mon., Aug. 5 at 9 p.m.

To raise awareness about the white shark and gray seal populations in Cape Cod waters, WHOI will host a free public forum on Wed., Aug. 7 with presentations from the scientists and engineers who study these species. "White Sharks/Gray Seals: Chasing the Cape's Most Charismatic Predators" will be held in the Redfield Auditorium located at 45 Water Street in Woods Hole from 7 p.m. to 8:30 p.m.

Adjacent to the auditorium, a "discovery" tent will feature displays and hands-on educational activities about the range of shark and seal research conducted at WHOI. The tent activities will begin at 5:30 and run until 9 p.m. Space for the public event is limited. Reservations can be made online at http://www.whoi.edu/events/sharksandseals or by calling the WHOI Information Office at (508) 289-2252