U.S. ONR-funded Researchers Recognized by President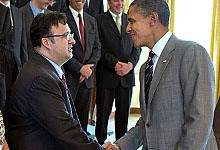 Six researchers funded by the Office of Naval Research (ONR) honored with Presidential Early Career Awards for Scientists and Engineers.
"ONR has always had an excellent ability to identify and foster young talent by keeping current with the most innovative research being done in various fields," said Dr. Michael Kassner , ONR director of research. "Working with top scientists and engineers ensures that we get the most advanced capabilities to our Sailors and Marines."
Honorees funded by ONR include: David M. Blei, Princeton University; Alejandro L. Briseno, University of Massachusetts Amherst; Lee R. Cambrea, Naval Air Warfare Center Weapons Division Research and Intelligence Department; Chiara Daraio, California Institute of Technology; Keith Edward Knipling, Naval Research Laboratory; and Ao Tang, Cornell University received the PECASE for outstanding contributions to their respective fields.
ONR has a proud tradition of funding rising researchers and scientists who are making important contributions to the Department of the Navy. In 2011, five ONR-funded researchers were recognized with the presidential honor.
This year, a total of 96 researchers earned PECASE awards through their work for various government agencies, including the Department of Defense, Department of Energy, NASA and National Science Foundation. Agencies annually nominate the best and brightest scientists and engineers whose early achievements appear beneficial to keeping the nation on the leading edge of scientific discovery.