Resolve Completes Black Rose Fuel Removal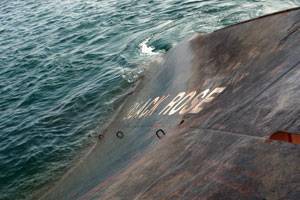 Salvage crews from international salvage company Resolve Marine Group, Inc. have completed recovery work (11/15/2009) on the Black Rose, an iron ore carrying vessel which sank two months ago in the Bay of Bengal, India.

Initially awarding the job to Resolve, the Paradip Port Trust has since issued Resolve a certificate of completion stating that, following the removal of well over 900 tonnes of contaminated fuel oil, the vessel has been cleared to their satisfaction. Chosen for their familiarity with environmentally delicate projects, Resolve utilized a select group of salvage masters, engineers and commercial divers who completed the project as efficiently and effectively as possible.

Captain Farhat Imam, Chief Operations Officer for Resolve Marine Group, Inc., stated "We are very pleased that the local officials were satisfied with our work, however, we urge the responsible parties to waste little time in solidifying a wreck removal plan for the remaining materials. The environment is our first and foremost concern here."

Resolve, upon completion of the contracted project (removal of the oil & oil-based contaminants only), remains concerned with the environmental and economic fallout from the remaining vessel and debris. The stricken wreck, which sank with the loss of one life 5km off the Paradip coastline on September 9, still remains in its original capsized condition, cargo included, until further arrangements are made to remove it.

Furthermore, inclement weather and treacherous seas, which are fairly common in that area could potentially shift the vessel and block the port entrance, thereby hindering daily port traffic. From an economic standpoint, this would be a devastating blow to the local economy which relies heavily on port traffic for day-to-day commerce. Therefore Resolve Marine, on its own initiative, recognizing the catastrophic scenarios which a possible vessel shift or breakage may result in, ballasted the lower tanks and also made provisions for reducing the buoyant action on the sunken wreck.

Nevertheless, Resolve has completed its tasked objectives in Paradip with minimal complications. Cooperation from Indian officials was noted and appreciated by Resolve on-site personnel, who also urged the expeditious resolution of the wreck removal prior to any possible environmental and economic repercussions.