Navy's 'Great Green Fleet' for 2012 RIMPAC Wargames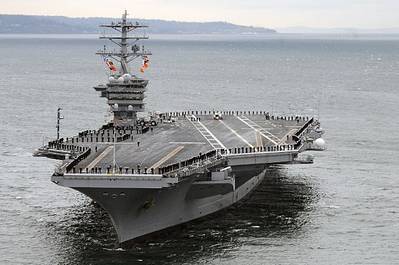 22 nations, 42 ships, 6 submarines, more than 200 aircraft and 25,000 personnel will participate in the biennial Rim of the Pacific (RIMPAC) exercise off Hawaii next month

The world's largest international maritime exercise, RIMPAC provides a unique training opportunity that helps participants foster and sustain the cooperative relationships that are critical to ensuring the safety of sea lanes and security on the world's oceans. RIMPAC 2012 is the 23rd exercise in the series that began in 1971.
RIMPAC 2012 will feature the first demonstration of a U.S. Navy "Great Green Fleet," during which U.S. surface combatants and carrier-based aircraft will test, evaluate and demonstrate the cross-platform utility and functionality of biofuels. This demonstration will also incorporate prototype energy efficiency initiatives such as solid state lighting, on-line gas turbine waterwash and energy management tools. 

 

Hosted by U.S. Pacific Fleet, and led by Vice Adm. Gerald Beaman, commander of the U.S. Third Fleet (C3F), RIMPAC 2012 marks the first time non-U.S. officers will command components of the combined task force during the exercise. Commodore Stuart Mayer of the Royal Australian Navy will command the Maritime Component and Brig. Gen. Michael Hood of the Royal Canadian Air Force will command the Air Component. Other key leaders of the multinational force include Royal Canadian Navy Rear Adm. Ron Lloyd, deputy commander of the Combined Task Force (CTF), and Japan Maritime Self Defense Force Rear Adm. Fumiyuki Kitagawa, vice commander of the CTF. 

This year's exercise includes units or personnel from Australia, Canada, Chile, Colombia, France, India, Indonesia, Japan, Malaysia, Mexico, Netherlands, New Zealand, Norway, Peru, the Republic of Korea, the Republic of the Philippines, Russia, Singapore, Thailand, Tonga, the United Kingdom and the United States.