'I Got a Rock'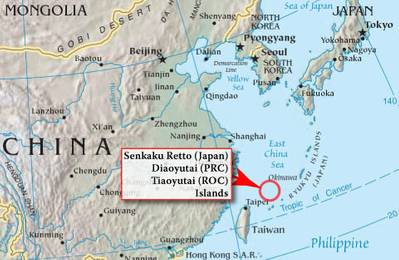 While Charlie Brown of 'Peanuts' comic strip fame lamented receiving rocks in lieu of Halloween candy, political rivals Japan and China are celebrating 'rocks', in fact naming them and filing claims to them in and around the East China Sea in an attempt to bolster and expand their country's maritime claims.
According to a report in the Wednesday, November 14 edition of the Wall Street Journal, marking territory in and around the disputed waters – the Senkaku Islands being a small strip of uninhabited islands Northeast of Taiwan – has become a source of rising political tension as coast guard and surveillance boats jockey for position. In the case of the Senkaku chain, which is controlled by Japan but simultaneously claimed by Taiwa and China, the role of the respective country's hydrographers become ever more important, relying on the latest technologies to accurately identify and claim parcels.
The claims are instrumental for matters of security and commerce, as territorial waters stretch 12 miles from a country's land, with the land is continent or island. In the case of Japan's 'no island left behind' campaign which dates back to 2007 according to the WSJ report, the very definition of an island is being stretched to the max, sometimes including only the tops of rocks, as long as it stays above the water line at high tide.
(Source: Wall Street Journal, Wikipedia, Staff)