Rolls-Royce Launches Light Waterjet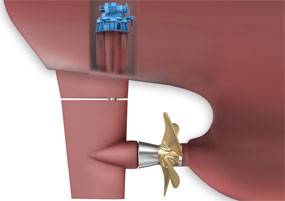 Rolls-Royce, the global power systems company, has launched a new waterjet for naval markets. The Kamewa FF67 will be the latest in the FF-series of aluminium waterjets, which are the lightest and most powerful in their power range. The new waterjet, available from late 2009, will also be suitable for commercial marine and offshore markets.

Rolls-Royce said the FF67, which will be the most powerful of the FF series, is a new design incorporating built-in hydraulics for the first time. This will save installation time at shipyards and guarantee smooth start-up.

At high speeds, the efficiency of waterjet propulsion offers either a greater top speed or better fuel economy. No reversing gearbox is required, stopping distances are short and craft can turn on the spot or even manoeuvre sideways.

Jay Dagher, Area Manager, Naval for the Rolls-Royce marine business in the Middle East and South America, said "The FF67 is suitable for a range of vessels, including large naval boats, fast ferries and crew boats. The FF series is a market leader and has sold more than 4,000 units since the first design was introduced to the market in the early 1980s."

Rolls-Royce has already provided Kamewa FF550 waterjets for 12 Fast Patrol Boats and four Fast Supply Vessels built by ADSB for the UAE Navy and UAE Coast Guard. Kamewa waterjets also help power the six 72m Baynunah Class corvettes that Abu Dhabi Ship Building (ADSB) is building for the UAE Navy. In addition, Kamewa FF375S waterjets also power the ADSB Sea Keeper high-speed landing craft.

Kamewa waterjets in service in the Arabian Gulf region will, following an agreement signed in August 2008, be maintained at a new Waterjet Service Centre being established with ADSB.

The FF67 will weigh approximately 1650kg, including the hydraulic valve block and the redesigned axial flow pump provides more thrust over the whole speed range. This offers higher bollard pull and improved acceleration.

In addition, a completely new steering nozzle, developed from the Kamewa A3 series, allows turning at high speed. An improved reversing bucket system provides reversing efficiency of up to 65 per cent of forward thrust.

The waterjet's lightweight design is achieved through a combination of an aluminium frame and an inlet duct manufactured from welded aluminium sheet.

This production method also gives improved anti-corrosion characteristics and allows the waterjet to be customised to meet customer requirements.