Rolls-Royce Wins Contract to Supply Water Jets for Indian Coast Guard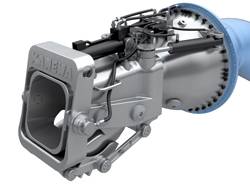 Rolls-Royce, the global power systems company, has won a contract from India's Cochin Shipyard to supply 60 water jets for a new fleet of 20 Fast Patrol Vessels for the Indian Coast Guard.

The contract will involve the supply of Rolls-Royce Kamewa 71S3np water jets (three per vessel), and associated equipment including a joystick control system which will enhance the manoeuvring capabilities of the vessels. The 50 metre long vessels, which are currently under construction, will reach speeds of 33 knots and will operate in Indian coastal waters and around island territories. Their roles will include coastal patrolling, anti-smuggling missions, fisheries protection, as well as search and rescue duties. Rolls-Royce is a world leader in water jet propulsion, designing and manufacturing an extensive range for use in vessels from small patrol craft, up to some of the world's largest water jets, used in naval craft and high-speed ferries. The state-of-the-art Rolls-Royce Kamewa S3 range of water jets are designed to offer higher speeds, improved acceleration, and increased efficiency. Water jets enable operation in shallow waters and offer higher speeds and better manoeuvrability than conventional propellers. Rolls-Royce has been supplying the Indian Coast Guard for 20 years, with 86 water jets already in service and other equipment such as controllable pitch propellers and stabilising fins operational on other vessels in the fleet. Rolls-Royce has also supplied a design and equipment package for three UT 517 design Pollution Control Vessels, the first of which Samudra Prahari entered service in 2010. Cochin Shipyard Limited has long standing experience in building Rolls-Royce designed vessels with more than 20 UT design vessels delivered to date.