Rolls-Royce LNG Engine Conversion for Bergen Tankers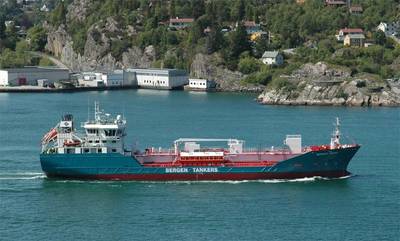 Rolls-Royce has won a contract to convert the tankship 'Bergen Viking' to run on engines powered by natural gas, replacing the current diesel engines.

Rolls-Royce Plc has won a contract to convert the merchant ship Bergen Viking to run on engines powered by natural gas, replacing the current diesel engines. The Norwegian ship owner Bergen Tankers AS has chosen gas engines and accompanying systems from Rolls-Royce for this upgrade, to provide a more environmental friendly and fuel efficient ship.

Neil Gilliver, Rolls-Royce, President Merchant, said; "LNG is growing in popularity as a marine fuel, due to its environmental characteristics and lower cost than diesel. The new engines for Bergen Viking will have reduced fuel consumption by about 25%. At the same time, emissions of NOx are cut by about 85%, CO2 by 25%, SOx by 100% and particles are reduced to approximately zero."

Bergen Viking is a 95 meter long chemical and product tanker operating along the long Norwegian coastline. Delivered in 2007, the vessel is part of a total fleet of six vessels owned by Bergen Tankers AS. The conversion to LNG is planned for the summer of 2014.

Kjell Olav Haugland, Managing Director of Bergen Tankers said: "For a relatively small ship owner, this change represents a significant investment. However with some financial support from the Norwegian government's NOX funding programme, we are confident that the solution offered by Rolls-Royce will prove to be cost efficient for us."

The vessel will be on charter for Statoil supplying refined products along the Norwegian coast. VP Statoil Shipping and Operations, Ann-Elisabeth Serck-Hanssen said: "Statoil has a long cooperation with Bergen Tankers, and we are pleased that we can take this step together towards a more environmentally friendly shipping operation. The vessel has a high safety standard enabling secure operations in a vulnerable area along our Norwegian coastline."