Rolls-Royce Develops OSV for Island Offshore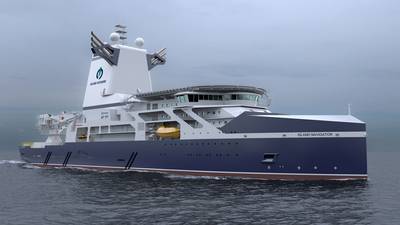 Rolls-Royce has won an order to provide integrated design and ship equipment for a highly innovative offshore vessel for Norwegian ship owner Island Offshore.

The new striking UT 777 design has been developed in close cooperation with Island Offshore, to be used in offshore drilling operations during harsh weather conditions. The vessel (MOU) will be built in Japan by Kawasaki Heavy Industries and is scheduled for delivery in 2017. The contract is worth around £25 million to Rolls-Royce.

John Knudsen, Rolls-Royce, President - Offshore said: "This new design is based on many years of operating experience, especially from the vessel Island Wellserver which we designed in 2005. The UT 777 will be unlike anything seen before, and marks the latest chapter in the story of the Rolls-Royce UT Design vessels which have been pioneering oil and gas exploration for the past 40 years."
The new vessel is designed to undertake a variety of subsea tasks, including Top Hole Drilling, Subsea Construction and Inspection, and Maintenance and Repair Work in deep waters. It can also be adapted to undertake light Well Intervention.
Håvard Ulstein, CEO of Island Offshore said: "We are excited about building another game changer in the offshore market. Our collaboration with the Rolls-Royce design team in Norway has been vital in this process."
In addition to the design and engineering package, Rolls-Royce will also supply the major systems, comprising the propulsion system with six generator sets and seven electrically run thrusters, control and automation systems, mooring and anchoring deck machinery and electric systems.
Island Offshore's new tailor made unit will include an enclosed Module Handling Tower to ensure safe and comfortable working environment for the crew while operating in harsh and cold conditions. The high operability extends the number of days it can continue to work under the weather conditions in the North Sea and at the new frontiers in the north.
The vessel's main particulars:
Design: Rolls-Royce UT 777 CD

Length: Approx. 168.8 m

Moulded breadth: 28.0 m

Moulded depth: 11.7 m

Positioning Capability: DP3

Ice class: ICE1B

Accommodation: 91 persons

Rolls-Royce scope of supply:
Design and Engineering Package

4 Bergen Diesel Generator Engines (Type B 32:40L9ACD, 4190 eKW @ 720 rpm)

2 Bergen Diesel Generator Engines (Type B 32:40V12ACD, 5587 eKW @ 720 rpm)

2 Rolls-Royce "Super Silent" side thrusters

3 Azimuth Thruster System (stern) and 2 Azimuth Thruster Retractable System (bow)

Helicon x 3 Propulsion control system

Rolls-Royce Deck machinery package, including Windlass/Mooring winch, Chain stoppers, 2 Mooring winches Aft, 3 Hydraulic pump units 1 cargorail crane CRC 150-2-7TE, 19m

Bulk Handling System, Total 202 m3

Automation Package, including Rolls-Royce Automation system (ACON), Control Consoles, Emergency

Telegraphs, Electrical Test Panel, Low voltage system.