Rolls-Royce Bridge Awarded for Ergonomic Design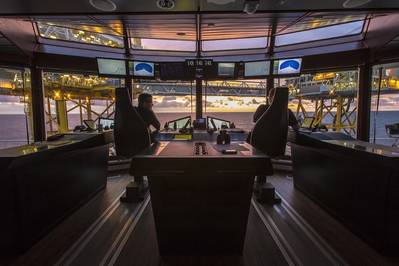 Rolls-Royce announced that its Unified Bridge Design has won this year's Ergonomics Design Award, presented by the UK Chartered Institute of Ergonomics & Human Factors. The award recognizes industrial design which puts the customer at the heart of the process using their views to generate ideas, develop concepts and test prototypes and finished products.
Rolls-Royce describes its Unified Bridge as a complete redesign of the ship bridge environment, including consoles, levers and software interfaces, done using a user-centered design process resulting in a more comfortable, clutter-free and ultimately more safe and efficient working environment.
Interviews with operators and visits to several different types of vessels, as well as on board observations of real life platform supply operations in the
North Sea
, were carried out in order to understand the work environment and gain insight into life at sea. Realistic simulations in a virtual environment were carried out at Rolls-Royce's Training and Technology Centre in Aalesund,
Norway
to investigate operator interaction with equipment, identifying which functions were vital and which could be removed or merged in order to improve operator performance.
The results of this research informed the development of the bridge consoles. Several different prototype iterations of bridge consoles were developed, starting with the use of basic components such as cardboard and sticky notes before moving to polystyrene models and then a full-scale plastic replica which was unveiled at the Nor-Shipping convention in Oslo in May 2011. User feedback based on the plastic prototype was important in the development of prototype consoles.
The first installation of the Rolls-Royce Unified Bridge left port in August 2014 on board the platform supply vessel Stril Luna owned by Simon Møkster Shipping. The operators were equipped with user experience assessment folders, so the Rolls-Royce Unified Bridge can be developed and improved for future customers.
Improvements were made to the aft bridge set up to reduce the amount of necessary monitors and open up the field of vision to the aft deck. This reduces visual scanning of the aft bridge and aft deck environment and means there is a smaller area over which to maintain situational awareness.
The vessel's control levers were also given a makeover to simplify and prevent error. Fresh designs were developed that support safe operation through grip, indications and easy access to functionality. Motorized levers give tactile feedback to the users. Reduction of footprint in consoles was also achieved as in many cases two levers or more were combined into one. With this unified interaction concept, the operators have more equipment within arm's reach than in traditional bridge consoles.
A complete redesign of the graphical user interfaces (GUI) on all Rolls-
Royce maritime applications
was carried out. A Unified Look and Feel (ULF) was introduced creating a common platform for Rolls-Royce Marine software, across applications and screen sizes. This results in consistent interfaces with a common way of navigating across and switching between systems. This reduces the risk of confusion and gives the user full overview and control.
Changes to the console design, color and graphical user interfaces also contributed to environmental visibility and reduced reflection maintaining the operator's night vision. A unified dimming philosophy was also implemented so that all equipment could be dimmed from one place.
A unified alert philosophy, where all bridge alerts could be silenced and handled from one panel, so that the operator does not have to search for the correct alert to silence was introduced also contributing to increased situational awareness. Emergency switches were placed in easily recognizable positions so it was easy to figure out which emergency switch belonged to what function reducing operator errors.
Rolls-Royce had been shortlisted for the award alongside competition from the University of Oxford (patient data display), as well as Ergonomie (Banking services) and DCA Design (Intercity Express Train).