Rolls-Royce Unveils Gas Turbine Service and Test Facility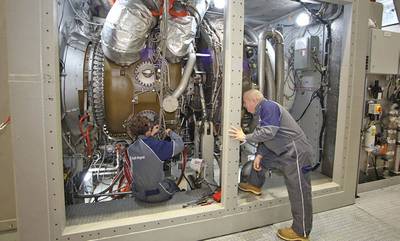 Vice Admiral Simon Lister, Chief of Materiel (Fleet), Defense Equipment and Support, opened a new gas turbine testing center last week at the Rolls-Royce facility at Filton, Bristol, U.K.
The Rolls-Royce Test Facility now includes a new WR-21 Test Cell, to support the maintenance requirements of the
Royal Navy
's Type 45 destroyers. This new facility will service and test both WR-21 and MT30 marine gas turbines and has the capability to test up to 40MW.
Following the unveiling of a commemorative plaque to mark the center's official opening, Vice Admiral Lister said, "The Type 45 is truly a breakthrough vessel; the most advanced warship ever to have been deployed by the Royal Navy. Key to its future success is the performance of the WR-21 marine gas turbine. Having a dedicated facility that can service and test these unique engines to maximize availability is essential if we are to ensure that the Type 45 is constantly operationally effective."
Don Roussinos, Rolls-Royce President, Naval, said, "We have established a unique facility that is not only indicative of our capabilities in support of the Type 45 destroyer program, but also symbolic of the close relationship Rolls-Royce has with the Royal Navy."
Roussinos continued, "As part of a long term relationship, Rolls-Royce is working closely with the U.K. Ministry of Defense and BAE Systems to provide in-service support for the Royal Navy's Type 45 destroyers, each of which is powered by two WR-21 gas turbines, among the most fuel efficient marine gas turbines in the world today. A key part of the relationship with MoD is to establish an overhaul and test capability to maximize the availability of the WR-21 engines to support the ships' demanding operational schedules."
The Marine test facility now includes both the WR-21 and MT30 test cells, delivering cost and operational efficiencies not only in relation to the maintenance of the Type 45, but also the future naval fleet to be powered by MT30, the world's most power dense marine gas turbine. The inauguration of the Rolls-Royce Marine Test Facility means that the turbines installed in the current and future naval fleet can be stripped, reassembled and tested in one facility in the U.K.
According to Rolls-Royce, the Type 45 destroyer is the only vessel in the world powered by the WR-21. They are unique fighting ships that warrant a unique facility capable of overhauling and testing gas turbines in the minimum of time so that they can quickly resume operations.
To meet MoD objectives
Rolls-Royce utilized
its existing infrastructure, adapting and extending its MT30 gas turbine test cell in Bristol. Systems and components from the U.K. MoD's decommissioned land-based test site at Whetstone were also reconditioned for use in the new center.