Rolls-Royce to Upgrade Propeller on Norwegian Cruise Ship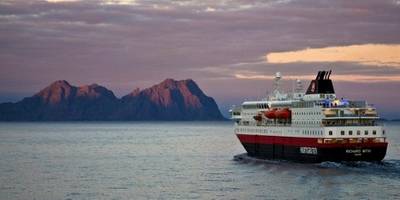 Rolls-Royce has won a contract to supply its Promas Lite propulsion system to the Norwegian ship owner Hurtigruten to improve propeller efficiency on its cruise ship Richard With.
Promas Lite is an integrated propeller and rudder system that increases efficiency and is designed specifically for retrofitting to existing ships. Hurtigruten will install Promas Lite on their Richard With cruise ship in November this year; an upgrade that the company said will significantly reduce operating costs for Hurtigruten. Estimated propeller efficiency improvement for the ship is between 11-14% at 15 knots.
Andrew Marsh, Rolls-Royce, President - Services said, "As an experienced operator of this system, Hurtigruten recognize the fuel savings and relatively short return on investment achieved by retrofitting Promas Lite. This installation will take place during routine dry docking so there is no impact on the vessel's operational schedule. We have equipment installed on board most of Hurtigruten's cruise vessels, and for many years we have worked together to develop and operate efficient propulsion systems suited to their fleet requirements."
The Richard With was originally equipped with twin Rolls-Royce controllable pitch propellers (CPP). By installing the Promas Lite solution, Hurtigruten will receive up to 80% of their total investment from the Norwegian Government's NOx fund, which encourages ship operators to invest in innovative technology that will reduce NOx emissions.
Typical fuel savings for Promas Lite range from 5-15%, depending on the type of operation and the performance of the existing propeller.
The propulsion system is suitable for a wide range of ship types and other future orders include fishing vessels and cargo ships.