Rolls-Royce Power Systems to Take on Successful MTU Trainees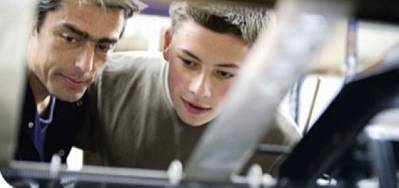 MTU Friedrichshafen informs that 36 young people have just successfully completed their vocational training courses at Rolls-Royce Power Systems AG and its subsidiary MTU Friedrichshafen.
The trainees completed technical and commercial courses lasting between two-and-a-half and three-and-a-half years. At the award ceremony, Steffen Besserer, Head of HR Development, presented the graduates with their diplomas and his congratulations: ʺYou are all now embarking on a new phase of your lives and your training has provided you with the best preparation possible for starting out in your professional careers.ʺ
ʺProvided that their performance and conduct has been satisfactory, the trainees will be offered open-ended contracts,ʺ said Head of Training, Martin Stocker. The offer also applies to those who have completed their training but still want to study before taking up employment with Rolls-Royce Power Systems AG or its subsidiary, MTU Friedrichshafen.

Industrial management assistants Marisa Fischer, Elena Heilig and Miriam Wolf received special awards from the Chamber of Industry and Commerce in recognition of their high standard of achievement. André Burkhart, likewise an industrial management assistant, received an award from the Hugo-Eckener-School as one of the year´s two best graduates.

The company adds that 19 of the 36 graduates qualified as industrial mechanics and four others completed training as automation technology technicians. There were also four industrial management assistants with additional qualifications in international business management with foreign languages, three mechatronics technicians, two technical pattern-makers, one machining technician, one construction mechanic, a vocational safety specialist and a management assistant for office communications with an additional qualification as a foreign language specialist. Rolls-Royce Power Systems is currently training a total of 446 young people for various qualifications in a range of vocational areas.