Rolls-Royce Unveils Lego Jet Engine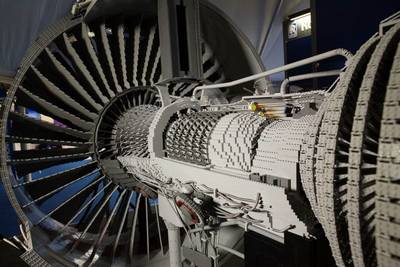 Rolls-Royce unveils at Farnborough the world's first jet engine to be made entirely of Lego
The engine, which is one of the most complex Lego structures ever built, is a half size replica of the Rolls-Royce Trent 1000 which powers the Boeing 787 Dreamliner aircraft.
The one of a kind Lego structure shows the complex inner workings of a jet engine and took four people eight weeks to complete.
Including 152,455 Lego bricks, the engine weighs 307 kg and is over 2 meters long and 1.5 meters wide.
Over 160 separate engine components were built and joined together in order to replicate a real jet engine. Everything from the large fan blades which suck air into the engine down to the combustion chambers where fuel is burned, had to be analysed and replicated using the world famous building blocks.
A team of graduates and apprentices from Rolls-Royce used their knowledge of the Trent 1000 engine to work with the company Bright Bricks, experts in Lego, to produce the immensely complex structure.