China Rongsheng Deliver Seventh VLOC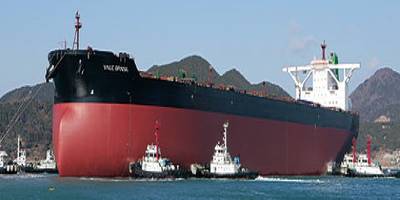 China Rongsheng Heavy Industries delivers a seventh 380,000 DWT class Very Large Ore Carrier (VLOC) to Vale.

The new VLOC, christened Vale Shandong has been received by Vale S.A . As of 7 December 2012, China Rongsheng Heavy Industries has delivered a total of seven VLOCs, with one completed last year and six this year.

On the same day, another VLOC built for Oman Shipping Company S.A.O.C. left for sea trials and will be received by the shipowner in the near future.
Rongsheng-built VLOCs have an environmentally friendly design to lower oil consumption and reduce the emission of CO2, while their operating efficiency exceeds most existing ore carriers. With its Energy Efficiency Design Index (EEDI) recorded at approximately 1.99 during sea trials, Rongsheng-built VLOCs are in line with the low-carbon green product concept and meets the benchmark requirements on emission reduction set by International Maritime Organization (IMO), which will come into effect as of January 1 2013.

Mr. Chen Qiang, Chairman of the Board of Directors and Chief Executive Officer of China Rongsheng Heavy Industries, said: "We are very pleased with the improvement in production efficiency the team has achieved so far, we expect 2012 and 2013 is [sic] the peak delivery period for Rongsheng-built VLOCs. Besides the seven VLOCs delivered, several VLOCs have also been launched and undergoing outfitting. Despite ongoing challenges in the shipbuilding industry brought about by the global financial crisis and the European debt crisis, China Rongsheng Heavy Industries' delivery schedule has not been readily impacted."