China Rongsheng Names, Delivers 380,000 dwt VLOC's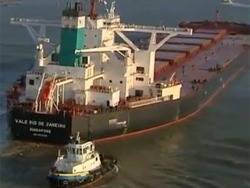 China Rongsheng Heavy Industries christened the first of two 380,000 DWT Very Large Ore Carriers built for Oman Shipping deliivers another of the same to Vale S.A.
China Rongsheng Heavy Industries Group Holdings Limited today christened the first two 380,000 DWT Very Large Ore Carriers ("VLOC") built for Oman Shipping Company S.A.O.C. ("Oman Shipping"). The vessels will set for sea trial and enter into the final delivery stage soon.
In addition, the Group has also delivered the third 380,000 DWT VLOC to iron ore mining giant, Vale S.A.
H.E. Dr. Ahmed AI Futaisi, Vice Chairman of Oman Shipping; Ms. Chen Huijuan, Secretary to the Municipal Communist Party Committee of Rugao City; Mr. Claudio Alves, Global Marketing Director of Vale; and Mr. Chen Qiang, Executive Director and Chief Executive Officer of China Rongsheng Heavy Industries attended the christening ceremony today. The two VLOCs were christened as "VALE SOHAR" and "VALE LIWA," in the names of two places in Oman. Sohar is the largest port in Oman, and which consists of a newly-completed berth to accommodate 380,000 DWT VLOCs.
As a result of the experience gained during the construction process of this type of vessel, the Group has achieved significant improvement for the construction cycle of VLOCs. Construction period of some of the critical process has been substantially reduced. A noteworthy example is that the time of installing the main engine after launching has been shortened to 20 working days.
After signing shipbuilding contracts for twelve 380,000 DWT class VLOCs with Vale in 2008, the Group signed to build another four 380,000 DWT class VLOCs, with a contract value of USD 480 million, for Oman Shipping in 2009.
The contract with Oman Shipping was regarded as the largest shipbuilding contract in the world in terms of tonnage. The four VLOCs are to be chartered to Vale, in support of the operation of Vale's ore distribution center in Oman.