RotorTugs Named at 'Herring Party'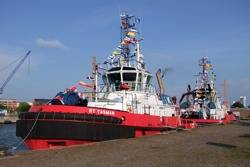 Kotug celebrated the Christening ceremony of two latest generation RotorTugs during their traditional "Herring Party" in Bremerhaven, Germany
The tugs "RT Darwin" and "RT Tasman" built in Singapore, have a power of 6,500 HP and 84 tons Bollard Pull. Each tug is equipped with three Schottel propulsion units providing them with unique maneuverability.
Due to the rate of increase in the size of container vessels and the demand of ship owners to attend these vessels with the same limited number of tugs, Kotug has replaced two older tugs by these new strong Rotor Tugs.
On their way from Singapore to Europe, Kotug Offshore B.V. contracted the towage of the flat top barge "UR 171" ( 100 x 33 m) to Stavanger, Norway. Both tugs proceeded on the 12.400 nm long journey round Cape of Good Hope in a convoy, with one tug towing the barge, while the other escorted
Both tugs have since then assisted seagoing vessels in the port of Bremerhaven, working to the satisfaction of the clients, vessel´s masters, pilots and tug´s crews..
During the ceremonies Kotug highlighted their offshore activities and in order to extend these activities, a new company "KOTUG Offshore B.V. was established. At least two Rotor Tugs are permanently trading in the offshore market.