Port of Rotterdam Takes Even Strain in 2013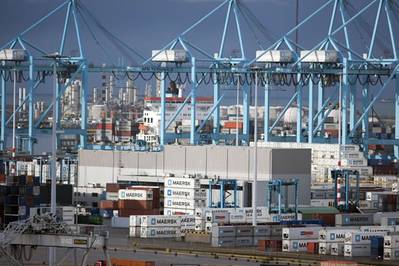 According to provisional figures, goods throughput in the port of Rotterdam will end this year at the same level as in 2012: 442 million tonnes.
The port explains that the top performance came from dry bulk such as coal, iron ore and agribulk. Throughput figures for crude oil were noticeably lower than in 2012, due mainly to the weak fuel market in Europe and maintenance shutdowns at the refineries. There was a slight increase in the throughput of oil products. Container throughput was down due to the economic crisis and because Hamburg won back some cargo.

Hans Smits, Port of Rotterdam Authority CEO: "Things are exactly the reverse of last year. Where in 2012 crude oil and oil products provided growth, they have failed this year. Now, coal, ore and scrap and agribulk in particular have increased. Container throughput is down slightly.

"The main reason for the lack of growth is the continuing economic slump. In the past three years, throughput increased by 1%, but that isn't on the cards this year, despite the fact that the second half of the year was better than the first.

"The port of Rotterdam's total market share remained stable. The market share for dry bulk increased substantially, but containers showed a slight decline. I expect little change in this next year, because the new container terminals on Maasvlakte 2 will become operational from the end of 2014. In view of, among other things, the macro-economic forecasts by the Central Planning Office and OESO, we estimate that total throughput in Rotterdam will increase by around 1-1.5% in 2014."

Since January 2013, the sea port of Dordrecht (throughput approx. 3 million tonnes a year) has been operated by the Port of Rotterdam Authority. Dordrecht throughput has therefore been included in Rotterdam's throughput figures for the first time this year.