Piracy – Russian Navy to Send Task Force to Gulf of Aden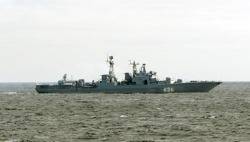 Russia to send new anti-piracy force for patrols off the Somali coast
A task force from Russia's Northern Fleet, led by the Udaloy class destroyer Vice Admiral Kulakov, is to depart on an new anti-piracy mission off the Somali coast, the fleet's spokesman Capt. 1st Rank Vadim Serga said.
The destroyer is currently on a training mission in the Barents Sea as part of the preparations for the upcoming tour-of-duty in the Gulf of Aden.
"It will be the first anti-piracy mission for the Vice Admiral Kulakov destroyer," Serga said.
The new task force will replace the Russian Pacific Fleet's task force headed by the Admiral Tributs destroyer, which has completed its anti-piracy mission off the Somali coast and set sail for its home base in Vladivostok.
The Admiral Tributs, the Pechenega tanker and a rescue tugboat arrived in the Gulf of Aden early this year, and has escorted five convoys of commercial ships since then.
Task forces from the Russian Navy, usually led by Udaloy class destroyers, operate in the area on a rotating basis.
Russian warships have successfully escorted more than 130 commercial vessels from various countries through pirate-infested waters off the Somali coast since 2008, when Russia joined the international anti-piracy mission in the region.