Bike Powers Ocean Racing Sailboat Winches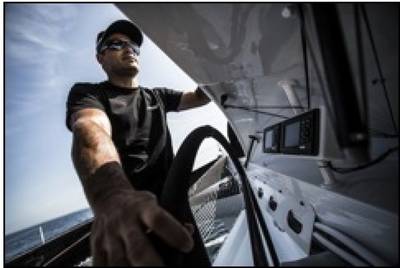 A bike on a boat? It might sound silly but it is a very serious technical innovation to help Yann Guichard to handle the maxi-trimaran Spindrift 2 alone on the next Route du Rhum race.

Édouard Touchard, a member of the Spindrift racing design team invented this ingenious system when he was with Franck Cammas' team preparing for the 2010 Route du Rhum. Cammas, the skipper of Groupama 3, won the race a few months later on board his 31.5 metre trimaran. The new mission for Édouard is to adapt his invention for Spindrift 2, which is almost 10 metres longer and has lots more canvas.

Are we talking about a real bike? "Absolutely, it is a regular bike attached to the deck that operates the winches on the same principle as the columns, except that you're using the greater power of the legs and not the arms," says Édouard, the mechanical engineer. "Yann can rotate how he uses them and increase his endurance." In the workshop in Lorient, the time and space to develop this new kind of bike is almost like being behind the scenes of the Tour de France.
 

Édouard coordinates operations with Florent Le Gal, who handles the composite aspects: "The all-carbon framework has been simplified," Florent says. "The crossbar was also removed to allow Yann to get onto the saddle quickly even in his oilskins in stormy conditions. The wheels are gone, meaning the bike can be screwed into the cockpit. The saddle, also made of carbon is a normal retail model that has been 'marinised'. And finally, the handlebars have been replaced with the type used by triathlon cyclists, which allow for a more comfortable position with better support for the back in particular."