Fastest Sailboat on the Planet – 'Vestas Sailrocket 2'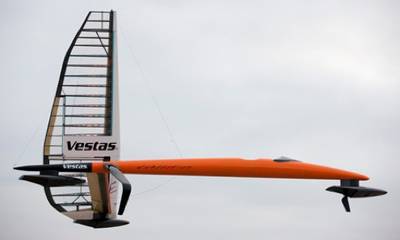 The speed sailing boat smashes the current record in Walvis Bay, off the coast of Namibia.

The new world record of 59.23 knots (109kph) set the best average time over 500m and broke the previous mark of 55.65 knots with a peak speed of 63 knots (119kph).

Two days later the team improved this speed with a 59.38 knot run which peaked at exactly 120kph (64.78 knots). During the same run the team also smashed the nautical mile world record* with an average of over 55 knots. The ink was barely dry on the first record.

"What a fantastic feeling," exclaimed passionate Vestas Sailrocket 2 pilot and project leader Paul Larsen. "The boat was really flying across the water today. We saw a beautiful untouched horizon ahead of us. Everything came together perfectly and it's amazing to have finally broken the world record. This is the breakthrough moment we have been aiming to achieve since the initial launch of the first Vestas Sailrocket."

Vestas Sailrocket 2 was designed and built in Vestas' technology facilities on the Isle of Wight in the UK. Shortly afterwards, the whole project was shipped to Walvis Bay in Namibia where conditions are considered ideal for setting world records.

Vestas Sailrocket 2 is designed to be a breakthrough boat confronting the problems affecting high speed sailing craft head on and break through to a whole new level of performance. The team believes the boat can go even faster, targeting average speeds of over 60 knots (69mph, 111kmh).

Vestas' Chief Turbines Officer Anders Vedel representing the main sponsor of Sailrocket 2, says the team have done an excellent job in breaking the outright world speed sailing record. "I'm thrilled that Sailrocket 2 can now be called the fastest boat on the planet," he says.