SAL Heavy Lift Bridges Beitstadsundbrua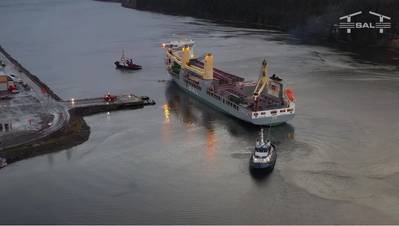 The heavy lift sea transport provider SAL Heavy Lift has delivered 12 bridge sections for the Beitstadsundbrua bridge from China to Norway.

The final bridge is part of the largest road construction project in northern Trøndelag, will measure 580 m in length and will connect the municipalities of Steinkjer and Malm, crossing the Beitstadfjorden.

The bridge will make travelling between northern parts of Trøndelag county considerably safer, as well as reduce travelling time significantly.

In a mountainous country like Norway, which is cut apart by deep fjords, bridge building is a virtue of necessity. Today there are over 18.000 bridges, summing up to 446 km and each with an average length of 250 m, spread across Norway. The latest addition will be the 580 m long "Beitstadsundbrua".

Connecting the municipalities of Steinkjer and Malm, whilst crossing the Beitstadfjorden, the Beitstadsundbrua will not only be longer than the average bridge in Norway, but also ensure increased road safety and accessibility. All whilst helping locals to cut down travel times and benefiting the local economy and environment.

"The new County Road (FV 17 and 720) including Beitstadsundet Bridge, will eliminate the distance challenges the region has. The new road and bridge significant increases the municipality of Verran's opportunities to further develop existing industries and attract new industry. The municipality is now, due to the new road and bridge, in dialogue with industrial companies exploiting establishment of industry in Verran", said Jacob Almlid, Special Advisor Industry & Commerce at Verran Kommune.